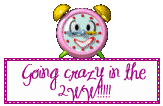 AS you know I am now in the
2ww
.
And now I'm feeling it... All these-
WHAT IFS???
good and bad.. Flooding my mind.
I guess this is Normal. But it doesn't make it Any Easier. I really don't know what to Expect.. Because I've never been in the 2ww after IVF.
I've Also already been thinking about whether or not I will TEST before my Beta.
The Answer is-
I don't know for sure.
On one hand-
I would like to know Before hand..if it didn't work. That way I don't get my hopes up waiting for a phone call with someone telling me I'm not pregnant. I know myself... And I would deal with it Better KNOWING before hand if it didn't work.
BUT on the other hand-
YES it'll be HARD EITHER WAY!!! And sometimes Test are wrong... False/Positives of False/negatives. BLAH BLAH BLAH!!!
I'm not crazy I promise I've just got WAY to much time to think.lol
If I do Test before hand I will not be Posting about it Until I get my Beta Results. Just a heads up. Its just a personal thing. I guess everyone deals with things differently.
But I well "tell all" sometime after my Beta NO WORRIES;)
I'm no good at this waiting thing. I need God to help me, so that I don't drive my self insane with worry. I need to have a little more Faith!!! I need to Remember that God is still in Control and has a Plan for me.. and He Loves Me!!
Lord Please help me during this difficult time.
In Jesus Name I ask and Pray.
Amen
Praying for you all as well.
HANNAH